Washing Tips for Healthy Hair

Even though you choose the right shampoo or conditioner for your scalp, it will be ineffective without the right method. Check out our recommendations on the proper ways to wash and dry your hair daily.


Step #1 – Brush before wash
 Brush your hair gently from the root to the tip of your hair. Brushing will help to comb out the snarls, remove dandruff and prevent tangles during wash.
If you have long hair or heavy snarls, it would be more effective to use fine-toothed combing brush.

Step #2 – Wash before shampoo
 Before applying shampoo, wash out the dirt (residues after brushing) with warm water.
Pre-wash will make your hair all wet and help to generate enough foam from shampoo application.
Please do not scrub hard.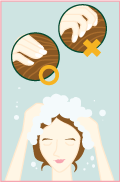 Step #3 – Finger-massage your scalp
 Apply shampoo on your hair (adjust depending on your hair length and condition) and generate foam by massaging your scalp with the pad of your finger. No matter how itchy it feels, do not use your finger nails! Next, run your finger through your hair, bringing foam down to the bottom to wash it. Add more shampoo if there is not enough foam. Wash your hair twice if your hair is very dirty especially after using a lot of hair styling agent. This time, the amount of shampoo should be half of what you use as the first time. As for rinsing, do it gently with plenty of warm water as to not leave any shampoo foam.

Step #4 – Dry with towel
 Wrap a dry towel around your head and let it absorb the moisture. Then, place tips of your hair between towel and pat it.
Dry your hair by patting from roots to tips bit by bit if you have long hair.
Always use dry towels, so prepare extra!


Step #5
 Wrap your hair with towel and gently knead them to get the water out.
 Step #6
 Use dryer about 20cm away from your hair. Dry with hot air first before switching to cool air once your hair becomes less wet. If you use hot air for long time, it will dry your scalp and damage your hair. It is always better to finish with cool air for healthy scalp care.